Holika Dahan Story | Holika Dahan | Holika Dahan 2012 | Holika Dahan Time 2012
This year Holika Dahan will be celebrated on 7th March 2012, Saturday in Purvfalguni Nakshatra. On the day of Pradosh Vyapani, Falgun Purnima in Bhadrhit kaal, Holika Dahan will be performed. On 7th March 2012, Holika Dahan will take place after sunset in Godhuli Bela, as Bhadra will remain till 08:55 only. That's why, before Holika Dahan after Bhadra time, Holi Pujan will be performed.
Leaving the home of Bhadra and worshipping
Holi
in Nisha Mukh is considered fruitful. As per the astrology also, celebrating festivals in their auspicious Muhurta, turns out to be good and prosperous. In Hinduism, there are various beliefs, custom and traditions. Although, as the time changed, idea and conceptions of people also changed. Their way of thinking and understanding also changed. But still, the culture has not changed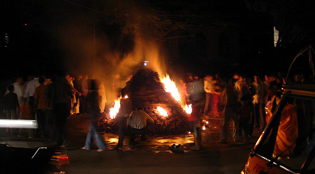 Today's generation raises a number of doubts regrading old rituals. But in India's religious atmosphere, rarely there might be any festival of a year which people don't celebrate magnificently according to their customs.
Things to Cast into the Holi fire
The things to be cast in Holika include raw mango, coconut or Saptdhanay, toys made of sugar, some part of new crops. Wheat, Urad, Moong, gram, barley, rice and lentils are called the Sapthdhanay.
Method of
Holi Pujan
Before Holika Dahan, Holi Pujan is being done. While doing this Puja, the person should sit near Holika facing in the east or north direction. The following materials should be used in Puja:
One bowl of water, beads, Roli, rice, smell, flower, raw thread, turmeric, Moong, Batasha, Gulal , coconut etc. should be used. In addition, Dhan of new crop like fully grown wheat and grains earrings are also used in it.


After this shield and other toys made of cow dung are kept near Holika.


At the auspicious time of Holika Dahan, using water, beads, flowers, Gulal and jaggery, Holika is worshipped. Four beads of shield and toys made of cow dung are brought home and kept safe. One in name of ancestors, second in name of Hanuman God, Third in name of Goddess Shitala, fourth in name of family.


Raw yarn is wrap around the Holika, moving in three or seven circles. Then the water of bowl and other material of Puja are dedicated to the Holika. In Puja we also use Roli and flowers. Using fragrant flowers, Holika Pujan is done by Panchopchar method. Water is used as offering after Poojan.


After the sunset in Pradosh Kaal, the Holika is set on fire. As soon as the fire is lit up, the pole is taken out. From the public Holika fire is taken and brought to burn the Holika at home. At the end, all men wear auspicious mark of Roli, women sing songs and blessings are taken from elders.


It is believed that intake of baked crop keeps you away from disease.


It is believed that bringing left over fire and ash next day to home, helps to protect from inauspicious power. Also, this ash is applied on body.
Mantra to be Chanted for Prosperity at the Time of Applying Ash to the body,
वंदितासि सुरेन्द्रेण ब्रम्हणा शंकरेण च ।
अतस्त्वं पाहि माँ देवी! भूति भूतिप्रदा भव ॥